Lewis Hine's photographs of child labor in 32 states documented the horrors of working conditions in the early 1900s. Here, a look at some of the shots he took in Maryland.
Lewis Hine (1874-1940) had been a teacher living in New York City when he first took up photography. He began working for the National Child Labor Committee (NCLC), and in 1908 left the city to travel the United States, documenting child labor across the country: kids shucking oysters in the South, selling newspapers in Washington D.C., canning beans in Baltimore and picking berries in rural Maryland.
Perhaps you have seen some of his sepia-tinted photos before – small girls standing before much larger weaving machines. Boys with dirt-smeared faces, too world-weary for their tiny bodies.
Equally important to what Hine's lens captured were the captions that accompanied each shot. One photo shows what looks like a small boy, tending to a plant on a farm. The caption tells us his name is Johnnie Yellow, and that at 10 years old, he was just over 3 feet tall. "He is stunted," Hine wrote. "Many of these children are stunted."
Physical stunting – as well as intellectual stunting – were some of the chief concerns of Hine's photos. A former teacher, he frequently mentioned lack of education for children – there was no time for school when they were busy working. Additionally, the work was dangerous: children working in factories had been sucked into machinery, had limbs cut off. Some were killed.
Hine's photos documented children working in the fields in Maryland and in canneries in Baltimore, a city that once held more canneries than any place in the U.S. Many of them, such as the J. S. Farrand Packing Co. in Fells Point, were staffed by children.
Hines also wrote about the injustices of the padrone system, whereby recent immigrants to the United States were brought from cities like Baltimore to factories around the South.
"I found a number of these workers who have been South, who are very bitter in their denunciation of the treatment they received," he wrote in his report, "Child Labor in the Canning Industry of Maryland."
The Meishell family was one such case. Originally from what's now the Czech Republic, they lived at 830 Hartford Ave. in Baltimore. In 1907, the family of seven left Maryland for the winter to work as oyster shuckers in Bay St. Louis, Miss., for Peerless Oyster Co.
Employment agents had promised them steady work and solid pay, but conditions in Mississippi were not what they had been promised. The company housed workers in miserable shacks, called camps, "where they were huddled like sheep." The entire family, a 3-year-old child included, had to work. The Meishells woke up at 3 a.m. and worked until 4 in the afternoon.
The work was irregular, and the company nickel-and-dimed its workers, often cheating them on the weight of oysters. Their store charged high prices for lousy food. Should workers get sick, Peerless sent them to a company doctor – of course, taking the high cost out of their pay.
The Meishells returned to Baltimore without a cent saved.
"You can talk about the days of slavery being over, but this is worse," Mrs. Meishell told Hine in 1909.
Joe Manning, a historian who grew up in Maryland, began tracking down descendants of Hine's subjects in 2005. His interviews with the children and grandchildren of child workers can be found at his web site, the Lewis Hine Project.
Sandra Beaugez was the granddaughter of Marie Kriss, a Polish girl who spent her childhood working at the Biloxi Canning Company. Like the Meishells, she had moved South from Baltimore.
Hine photographed her in 1911; at the age of 8, Kriss's face was already weathered by a life of hard work.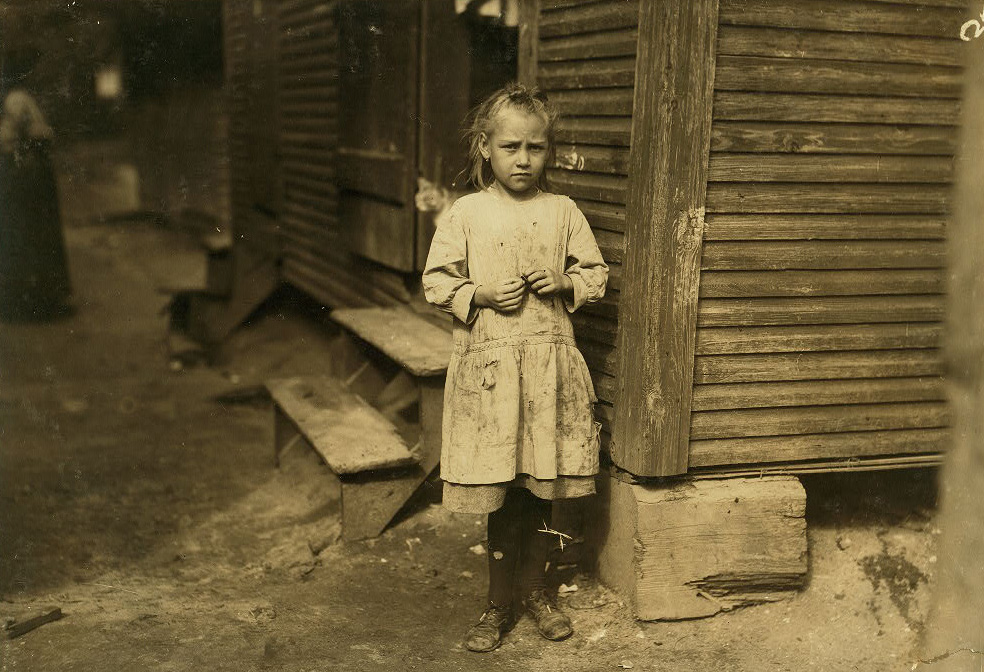 Beaugez had never seen the photo, but remembered hearing her grandmother's stories of life in factory. "She lost part of her ring finger, up to the first knuckle, from handling shrimp. The acid eventually caused it to rot away."
Hine's photos and reports of child labor helped raise awareness of the problem of child labor in America and encouraged increased laws and enforcement of labor practices. However, child labor still exists in many of the countries the US imports goods from. A 2016 Amnesty International report found that children in the Democratic Republic of the Congo have been used to mine cobalt, which is used in smart phone batteries for companies like Apple and Samsung.