In some blighted neighborhoods in East Baltimore, a deconstruction workforce has started to attack its housing problem by hand, taking apart a selection of vacant houses brick by brick.
Details, a social enterprise branch of human service group Humanim, says it employs people with barriers to employment – like chronic poverty, a conviction, or the lack of a degree — for deconstruction and reclamation work in Baltimore City.
For years, the city has fought blight with excavators, clawing down abandoned and decrepit buildings. Details took on its first large-scale deconstruction project in 2014 in the 2400 block of E. Eager Street – known for the "FOREVER TOGETHER" and "I AM HERE BECAUSE IT'S HOME" murals painted along the rowhouse facades.
Details' second project, on the 900 block of N. Port Street, hinged on the success of the 35-house pilot on the perpendicular street.
Pending a few sales, the crews salvaged roughly $55,000 worth of material from Eager Street, said Max Pollock, the materials manager for Details, though some houses didn't have any joists or floors, or were partially collapsed. On Port Street – which had 10 houses, 3 partially collapsed – Details anticipates being north of $30-40,000 in materials.
"Deconstruction's more expensive. The reason it's more expensive is because we employ more people," Pollock said. " … With deconstruction, it's somewhere between 6-8 times more jobs created so we have to pay people's wages, which is great – that's what we're here for."
Pollock said the group wanted to find a way to approach the homes in a way that would "not only get rid of a block of vacants, but would create jobs, keep materials from the landfill and really, salvage enough material to pay people's wages."
"It's been years since these houses even have been operated," said Derrick Doles, a worker with Details. "The problem's just bigger than me. I can't even address all the problems there is, but I can see them."
In several of the homes along Port Street, photographs of family pets, young children, and old school awards hang on the wallpaper and drywall-layered walls of the hundred-year-old rowhomes.
In one house, there was a calendar that said September 1996. Another said 2007.
"The houses were built by somebody, inhabited by many people over the past hundred years," Pollock said. "The amount of stories that are embedded in each house is staggering and we wanted to make sure that wasn't lost."
Doles, who was born and raised in East Baltimore, said Details is doing something nobody else is doing for the block.
"These houses hold a lot of the drugs," Doles said. "The drugs, the guns, and God forbid, bodies also. Tearing these old houses down and putting something else here that will be beneficial to the neighborhood or the community … it makes the neighborhood look better. Something good will come out of it, even if it's just trees."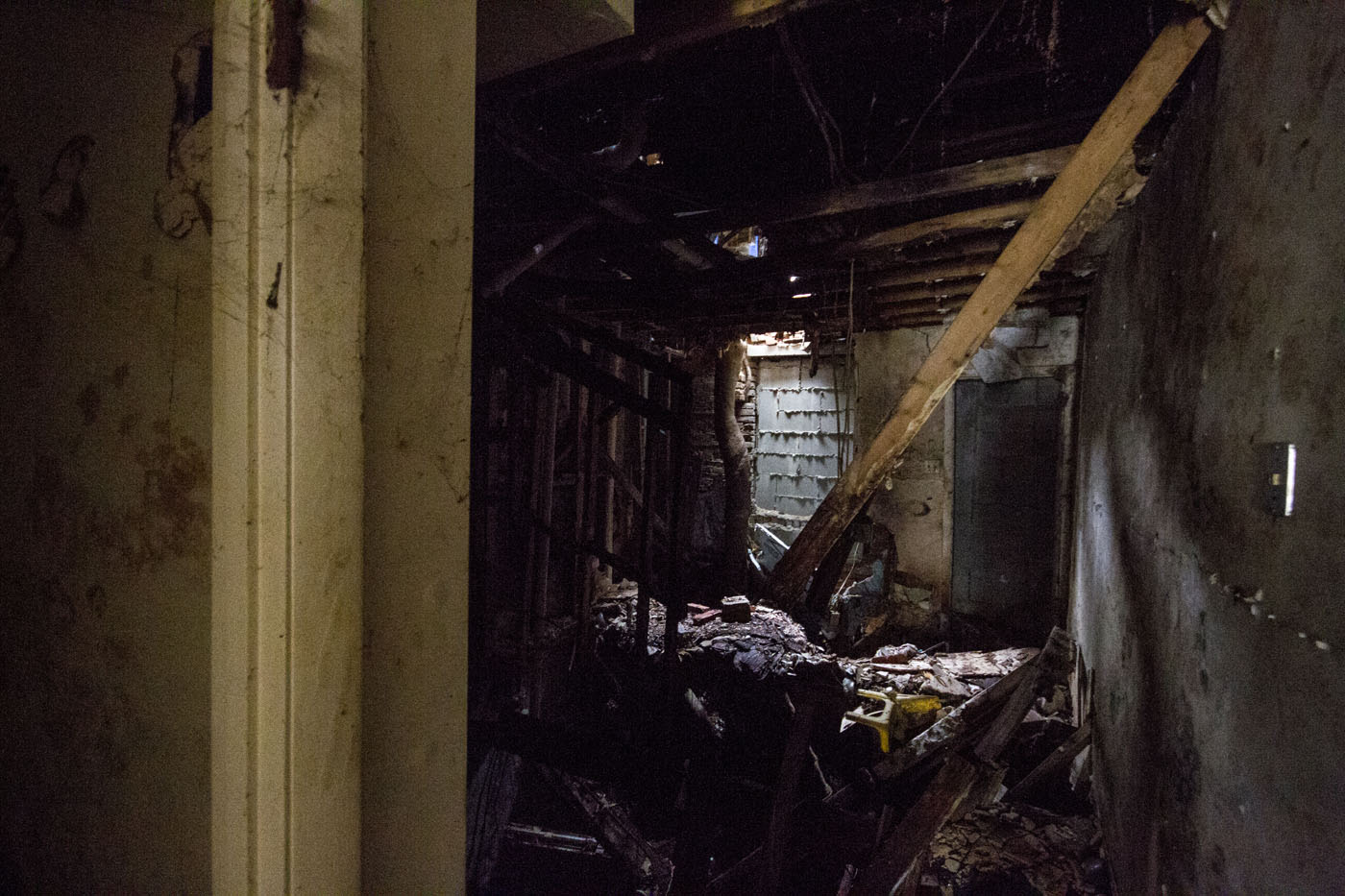 The caveat, he says, is that, "for some people, the only way they are eating now is by selling drugs. … It's just a struggle, like a tug-of-war. Because as easy as this block can get fixed up and the drugs move off this block, two blocks down they'll move up right there. It's a chain reaction, a lose-lose situation. But you do get some win out of it."
His suggestion: Open up doors so those people can work.
"If it was easy to get jobs, Baltimore would be one of the best cities to move into, and there wouldn't be as much drugs going on," he said. "… The lack of love – our people are just tearing down the city."
Pollock says he hopes the program can expand across all of Baltimore and not be just a project, but a policy. He also said that similar groups in Philadelphia and Detroit can continue to grow.
"The opportunity to work is a blessing in itself," said Devin Milbourne, a Details worker who says he had no real work experience before coming on with the group.
"In the three months I've been here, I've learned a lot to where if I wanted to, I could supervise [deconstruction]. I wanted to be the … provider in my house. I know my life is moving – not from starting over but to a new chapter. A lot of people here … somebody gave them a second chance and that makes men feel alive."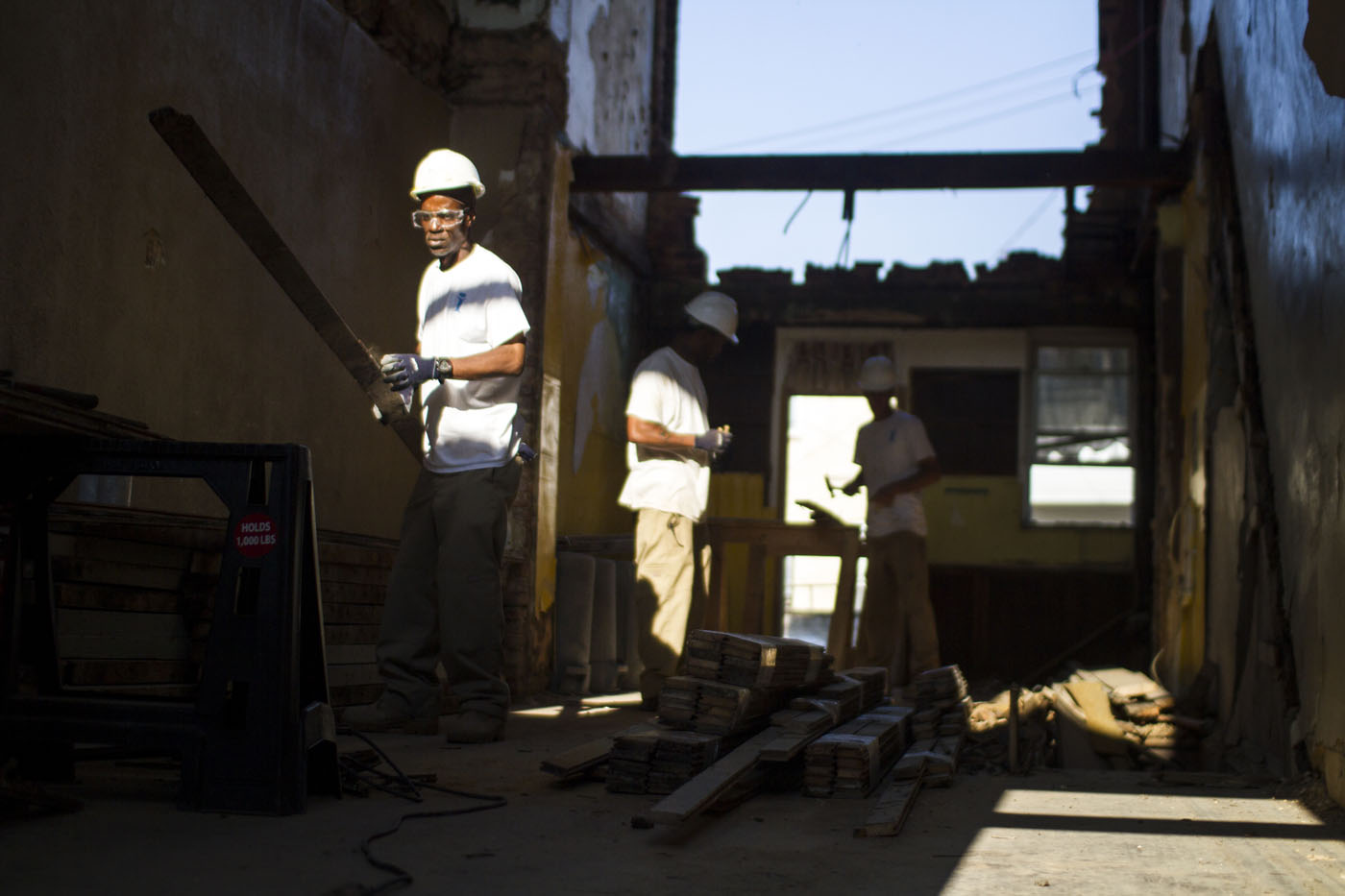 The details in deconstruction

Proponents say the program will be able to pay for the added labor expense by selling the salvaged materials, especially Baltimore's iconic red brick. They believe the venture will help turn the city's multimillion-dollar demolition program into an environmentally friendly job creator, without costing much more than a typical tear-down.
Deconstruction is not a new idea, starting as a way to reduce the amount of waste headed to landfills and gaining traction as a job-training program. Officials say the city considered incorporating the practice into the city's demolition work for years, but balked because of the additional cost.
Deconstructing the city's vacant houses, however, comes with added challenges. Conjoined rowhouses pose safety risks. In many cases, scavengers have already harvested the most valuable pieces, such as copper pipes, cornices and appliances. Deterioration also takes a toll on what can be salvaged, particularly lumber.
In seeking bids for deconstruction, the city required contractors to employ at least 24 people and sell a portion of the salvaged materials for reuse, instead of recycling. Masonry, for example, is crushed for use as gravel.
Compared to the $5.8 billion-a-year brick manufacturing industry, the market for reclaimed brick remains too small and fractured to produce reliable statistics, according to industry operators. But some brick sellers say they have benefited from a vogue for lofts and exposed bricks, with growing opportunities to sell the antique brick for tiles and interior walls.
The bricks

Sellers said what matters for resale is quality and color, which among antique bricks vary region by region, depending on the minerals in the soil and the firing process. Molded bricks, which make rounder, more irregular blocks, also fetch a premium.
Some cities have established brands for their brick. Chicago, which has one of the most successful reclaimed-brick industries, is known for its mottled, pink terra cotta color, and St. Louis boasts a deep red.
Milwaukee's bricks come in a paler yellow, while Detroit, where nonprofits are also trying to start a resale industry, suffers from bricks that tend toward a homogeneous, unpopular orange, said Tom Svoboda, owner of Illinois-based Vintage Brick Salvage.
"Aesthetics is really the main thing. … There's a good market for solid red brick," said Svoboda, who said an antique red brick can sell for 50 cents. "The real problem is, 'orange' is a bad word."
Baltimore's brick — a basic red that occasionally veers into a more orange, sunset hue — gets its color from the silica and iron oxide in the shale, according to Gary Clark, sales manager for the brick manufacturer Glen-Gery Brick, which has locations across the country, including in Lutherville.
Baltimore Sun reporters Luke Broadwater and Natalie Sherman contributed to this article.