"This is the block where it's scary to everyone," Preston Greene says as we walk down the 4700 block of Liberty Heights Avenue, a once-vibrant stretch of Howard Park now marked by cheap carry-outs and a handful of shuttered storefronts. "There was a hardware store there, very small. This door is that of a halfway house – right next to a liquor store. A protected class of citizens. Are you kidding me?"
Howard Park

» Border streets: Liberty Heights Ave., Hillsdale Road, N. Rogers Ave., Post Road, Eldorado Ave.
» Neighboring areas: Baltimore County, Grove Park, Purnell, Central Forest Park, Dorchester, West Arlington, Dickeyville
» More neighborhoods
» Help us catalog the signs of Baltimore City's neighborhoods

Longtime residents of this West Baltimore community remember the halcyon days, and hope that at the very least, the facades of these shops could be restored to a more aesthetically pleasing form. But Greene, as president of the Howard Park Civic Association, has myriad issues that need addressing.
One of Baltimore's biggest neighborhoods, Howard Park's large single-family homes and 60-plus acres of urban forest have made it an attractive residential community and park-like environment within city limits since its annexation in 1918. But as Greene says, the neighborhood has been "in a downward spiral" for decades. A completely segregated neighborhood until the 1960s – according to howardparkca.org, there is "no record of a black resident … prior to August 1959" – Howard Park experienced years of white flight, high crime rates and overall decay.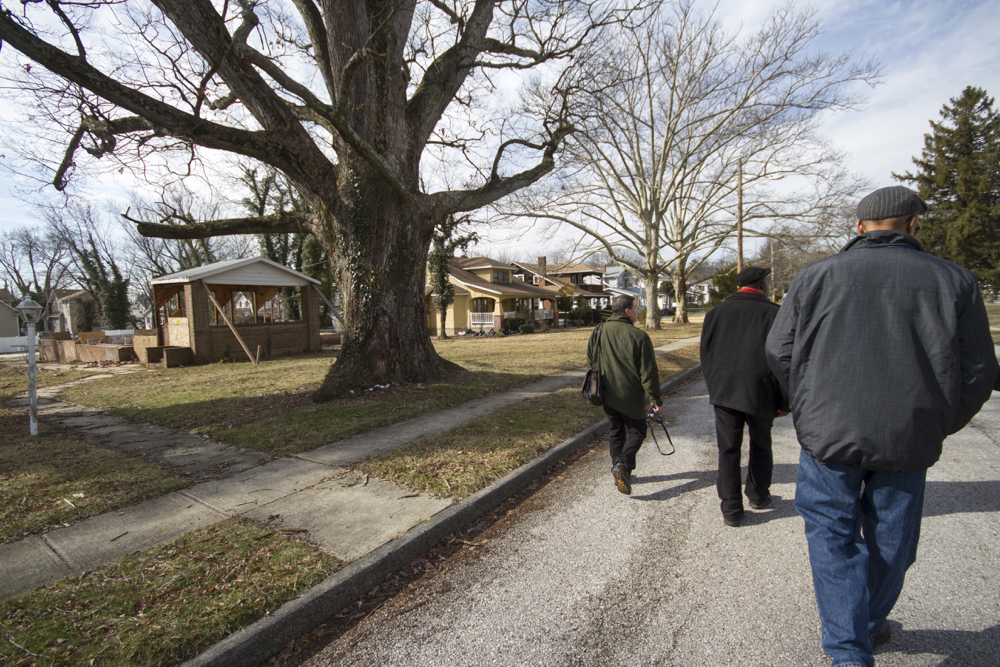 Our guides, Preston Greene, Jon Schladen and Carlyle Winkler.
In Greene's mind, however, the pendulum has begun to swing the other way. The tipping point came last July, when a ShopRite opened at 4601 Liberty Heights Ave. Considered a food desert ever since Super Pride closed on that lot in 1999, Howard Park is now home to the largest grocery store in the city.
The store serves as a significant source of pride for Greene, who, along with representatives of the Baltimore Development Corp., began lobbying the city for a grocer there in 2002. For years, residents of Howard Park had to journey to Mondawmin or the Reisterstown Road Plaza or other far-flung locations to buy groceries. Now ShopRite is here, and it even has a delivery service – ideal for Howard Park's significant elderly population.
"This is the biggest thing in a long time," says Greene, a retired IT professional who moved into the neighborhood in 1979. "We have movement towards the present right now. We have a youth capacity building program, a service learning project, which will help us identity the vacant and nuisance houses in the community. We've already run our pilot, and we will start up again in the spring."
Leading that program is Jon Schladen, a senior planner for a military industrial complex who moved to Howard Park from Wilmington, Del., five years ago. The city estimates that Howard Park's vacancy rate is about 14 percent, but the true figure is likely much higher.
"They don't have the resources to survey a neighborhood like ours for vacant and nuisance houses," Schladen says of the city. "A simple survey that we did, we found 14 vacant houses in an area where the city said we only had two. What we're doing is using kits in the service learning program in essentially being the boots on the ground. If we can begin to understand our own condition as a community, we're going to have much more power."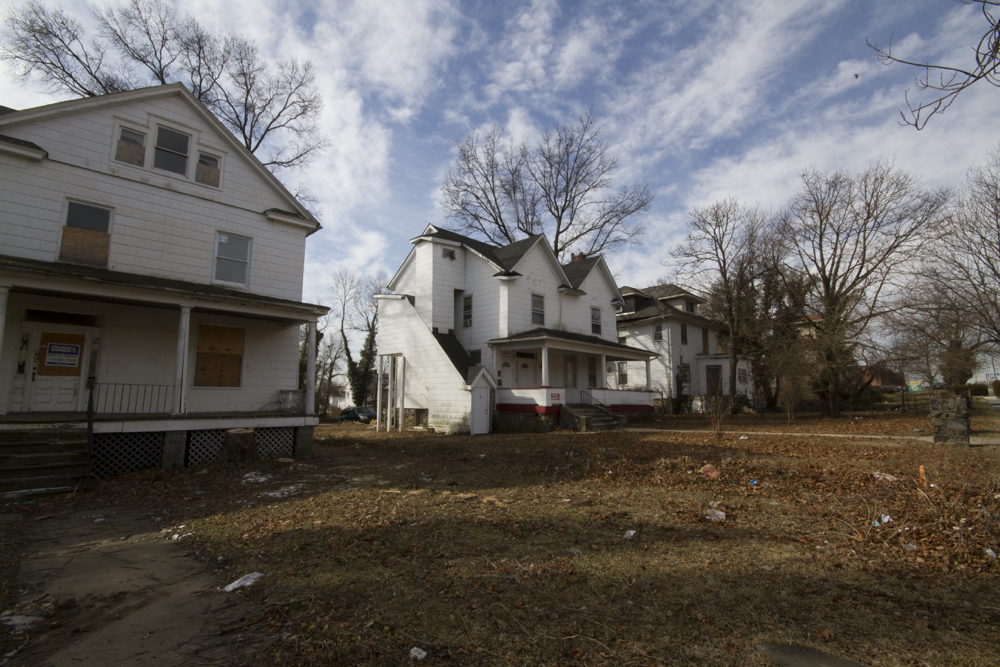 Residential redevelopment and revitalization of the community are the overarching goals of the HPCA. But perhaps just as important are visual improvements. Greene hopes that slots revenues will go toward façade improvements on the Liberty Heights corridor. Litter on the side streets and throughout Hillsdale Park is also a concern.
"Every once in a while you'll find a typical yahoo, but it's generally a quiet neighborhood and crime is not my biggest fear here," Schladen says. "What I fear is, you saw the areas we walked through with all the trash on the streets. That is my biggest fear. If we fall into that kind of behavior for too much longer, we're just going to ignore the larger stuff around here, too. Preston's right in going after development in the area. At the same time, you have to go after the smaller stuff as well."
While Schladen, Carlyle Winkler (our third tour guide) and other involved community members work to address "the smaller stuff," Greene is looking across the street from Shoprite at his next major challenge: redevelopment of the old Ambassador Theater. An iconic cultural landmark built in 1935, the theater screened its last film in 1968, "remained in use for over three decades as a dance hall, roller-skating rink, cosmetology school and church," and then was ravaged by a fire in 2012.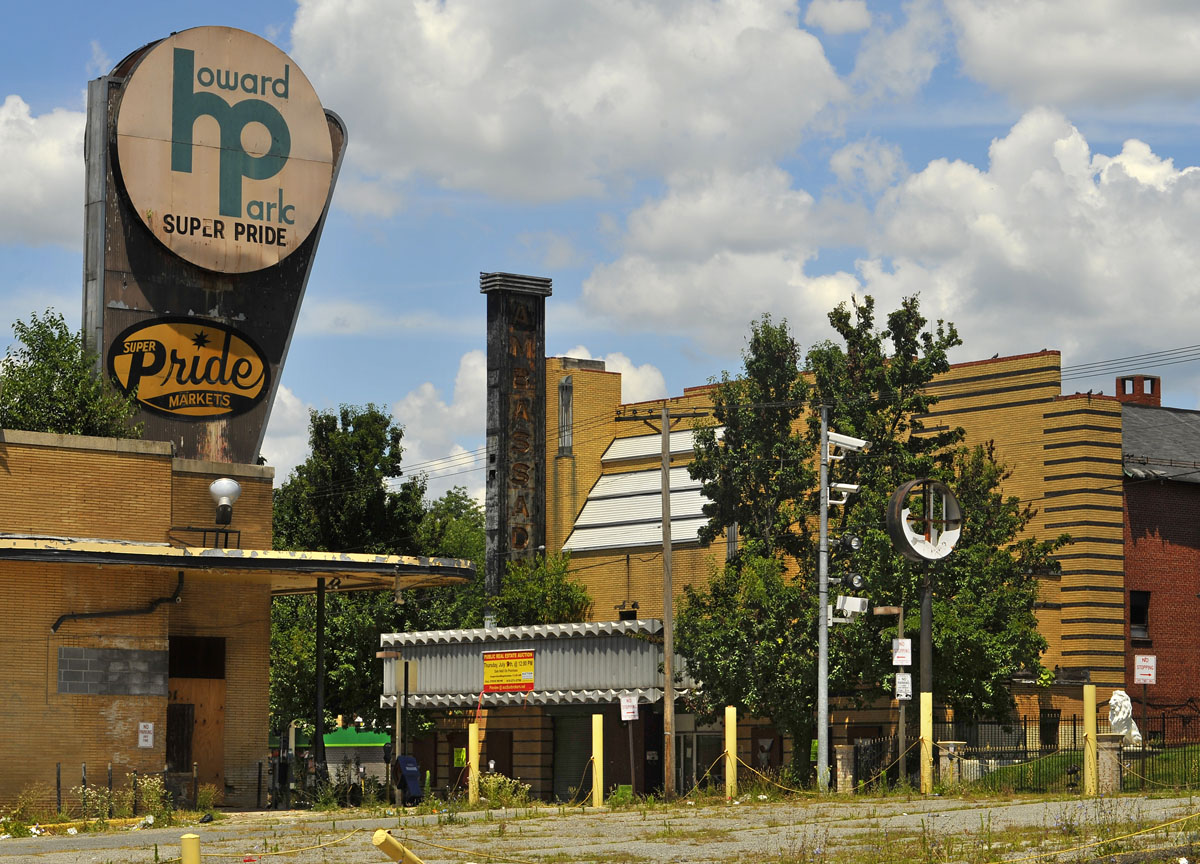 Greene has organized subcommittees to address all Ambassador-related issues. It's a significant undertaking that will require millions of dollars from investors, widespread community support, and government cooperation and assistance. But like everything else happening in Howard Park, Greene is committed to taking on that challenge and doing whatever he can to improve the neighborhood.
"We've got the physical assets that you see, [Forest Park] Golf Course, the big lots, big homes and all, but we also are a healthy neighborhood," Greene says. "We have visions of great things. People see movement and want to get involved and have been. So Howard Park – we love it."