Pigs were unloaded off trains at the B&O rail yards and herded through nearby streets to the slaughterhouses. That's the abbreviated version of how Pigtown got its name.
Pigtown

» Border streets: W. Pratt St., S. Carey St., Scott St., S. Pace St., W. Hamburg St., Bush St., Bayard St.
» Neighboring areas: Barre Circle, Hollins Market, Union Square, New Southwest/Mount Claire, Carroll Park, Ridgely's Delight
» More neighborhoods

By the late 1970s, however, the charming imagery of squealing swine on a death march wasn't working for neighborhood advocates intent on rebranding the area as Washington Village.
"With the improvements on Washington Boulevard and new businesses like McDonald's coming here, how can you call it Pigtown?" David Whitman, president of the Washington Boulevard Merchants Association, said in a Sun article published on July 17, 1979.
Fast forward three-and-a-half decades and the simple utterance of "Washington Village" can elicit eye rolls and shrugs from residents. Pride in Pigtown appears all around this Southwest Baltimore neighborhood.
"We've tried to celebrate the name and heritage in a new way," said Ben Hyman, the executive director for Pigtown Main Street. "We wanted to be a little more playful with the name. One example of that are the street pole banners. They're all a little bit different. They're all puns on pork and the name and the city. That one says Top Choice, [others say] Rich in Flavor, Certified Local."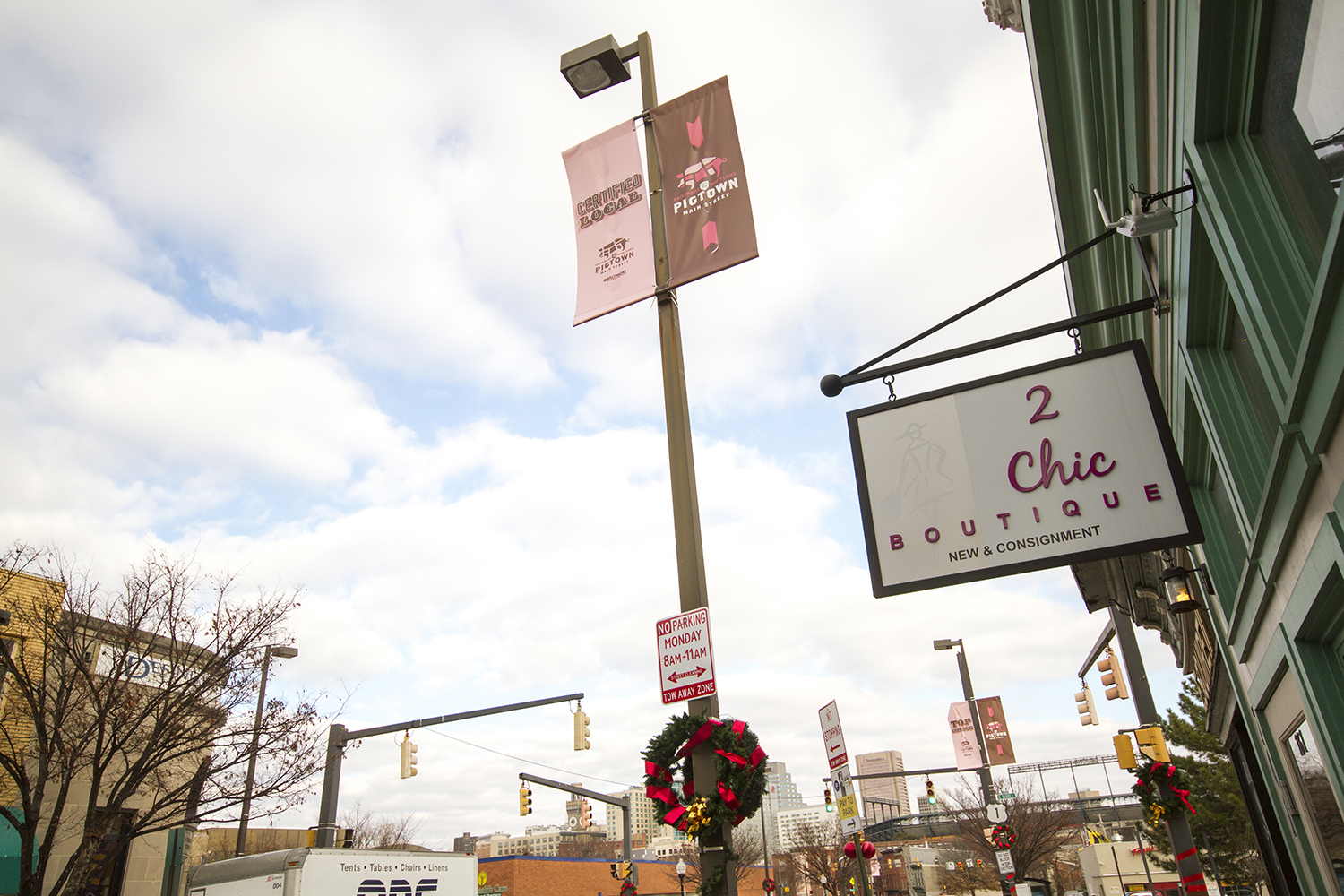 Hyman's job is to improve Pigtown's image and draw new businesses to the area, particularly the commercial corridor on Washington Boulevard. The challenges he faces are many: crime, vacant properties, lack of current retail, negative perceptions from outsiders.
But the opportunities, Hyman notes, are even greater. Pigtown – within walking distance to Camden Yards, M&T Bank Stadium, the Inner Harbor and University of Maryland-Baltimore – has one of the most desirable locations in the city. Carroll Park, a 117-acre green space with athletic fields, an outdoor skating rink and a nine-hole golf course, offers recreational opportunities and hosts an annual summer music event. And overall, Pigtown is still one of the most diverse – racially and socioeconomically – neighborhoods in Baltimore.
"The strongest, most vibrant neighborhoods in Baltimore, I would argue, are the neighborhoods surrounding the Inner Harbor," Hyman said. "We're one of the few neighborhoods that is within walking distance of all those great amenities that has not enjoyed the same revitalization, or at least to the same extent. … Our challenge is how do you leverage that and maximize it and make a difference for the people who live here and the business owners."
Since Hyman assumed his post a little more than two years ago, Pigtown has added eight businesses, including 2 Chic Boutique (a consignment shop owned by state Sen. Catherine Pugh) and Afro Fashion & Art. Other notable businesses on Washington Boulevard include Mobtown Ballroom (a renowned swing and salsa dancing venue), Tasty Creations Bakery (which sells wholesale baked goods to many groceries and delis throughout the area) and Café Jovial.
Rob Dickerson, co-owner of Work Printing & Graphics on Washington Boulevard, opened his store eight years ago. He had previously rented a space in Federal Hill for seven years, but the Pigtown prices simply couldn't be beat. Still, an investment in the neighborhood back then took a major leap of faith.
"It's no longer a ghost town. It used to be," Dickerson said. "When we first moved here, most of the foot traffic were junkies, panhandling and buying drugs. There's a lot more people around. The amount of cars on the street today would've never happened eight years ago. More businesses, more opportunities. A lot more activity."
As more commerce has entered the area, growth has spread off the main street and into the residential areas. Camden Crossing, a development of newly constructed townhomes, offers luxury living (and garage parking) just a few blocks north of Washington Boulevard. Renovated rowhomes are significantly cheaper here than in Federal Hill or Canton.
The missing piece, Hyman says, is an anchor restaurant on Washington Boulevard. Pigtown residents have told him that they don't want the neighborhood to become Federal Hill Lite, but at least one sitdown restaurant, plus more complementary retail, would go a long way toward drawing more people.
"My pitch is that [Pigtown is] close to lots of nice things to walk to," Dickerson said. "Eventually there will be nice things here, too."
This is part of an ongoing series from The Baltimore Sun about the history, culture, and future of Baltimore's neighborhoods. Have a suggestion for what neighborhood to explore next? Let us know.