Ryan Diviney was a West Virginia student in 2009 when he suffered severe brain trauma after nearly being beaten to death outside a convenience store near campus. Ryan's father Ken has documented his son's struggles on a blog. Ryan has been pulling through – slowly but surely.
It's not hard to see that the Divineys are die-hard West Virginia fans. The college decor covers the walls in their Ashburn, Va., home right down to a giant wall decal of a football helmet. The Mountaineers are playing the Texas Tech Red Raiders today, and pulled pork is simmering in the kitchen. Ryan Diviney, 25, sits in his wheelchair, kept warm by a fleece blanket and socks, as his father Ken, 50, sits nearby.
"Great game, wasn't it buddy? Ahhh, it was a great game. Got 'em right in the end there," says Ken, rubbing Ryan's arm.
Ryan doesn't respond.
"Didn't think we were gonna pull through but they did at the last minute," says Ken, placing his forehead against Ryan's arm. "Yep, they sure as hell pulled through."
Ryan turns his head to the left and his eyebrows move back and forth.
His eye muscles twitch but his eyes don't open. They can't open.
The family dog, Tucker Joseph, wags his tail. Ken takes Ryan's hand and places it on Tucker's soft ears, moving it in a petting motion. Ryan's little sister, Kari Diviney, 23, runs into the room.
"Hi Ryan! I love you! Can you squeeze my hand? Squeeze my hand, Ryan."
Her voice is booming and full of positivity. Ryan's limp hand reflexes around Kari's. She presses her head to his. He turns his head in her direction. Her left wrist, with the tattooed initials "RKD" for Ryan Kenneth Diviney, is exposed as she touches Ryan's face.
"Are you smelling my hair? It smells good. I just washed it!" she says. "I love you!"
Kari emphasizes each syllable and deliberately stresses each sound, making sure he hears her.
***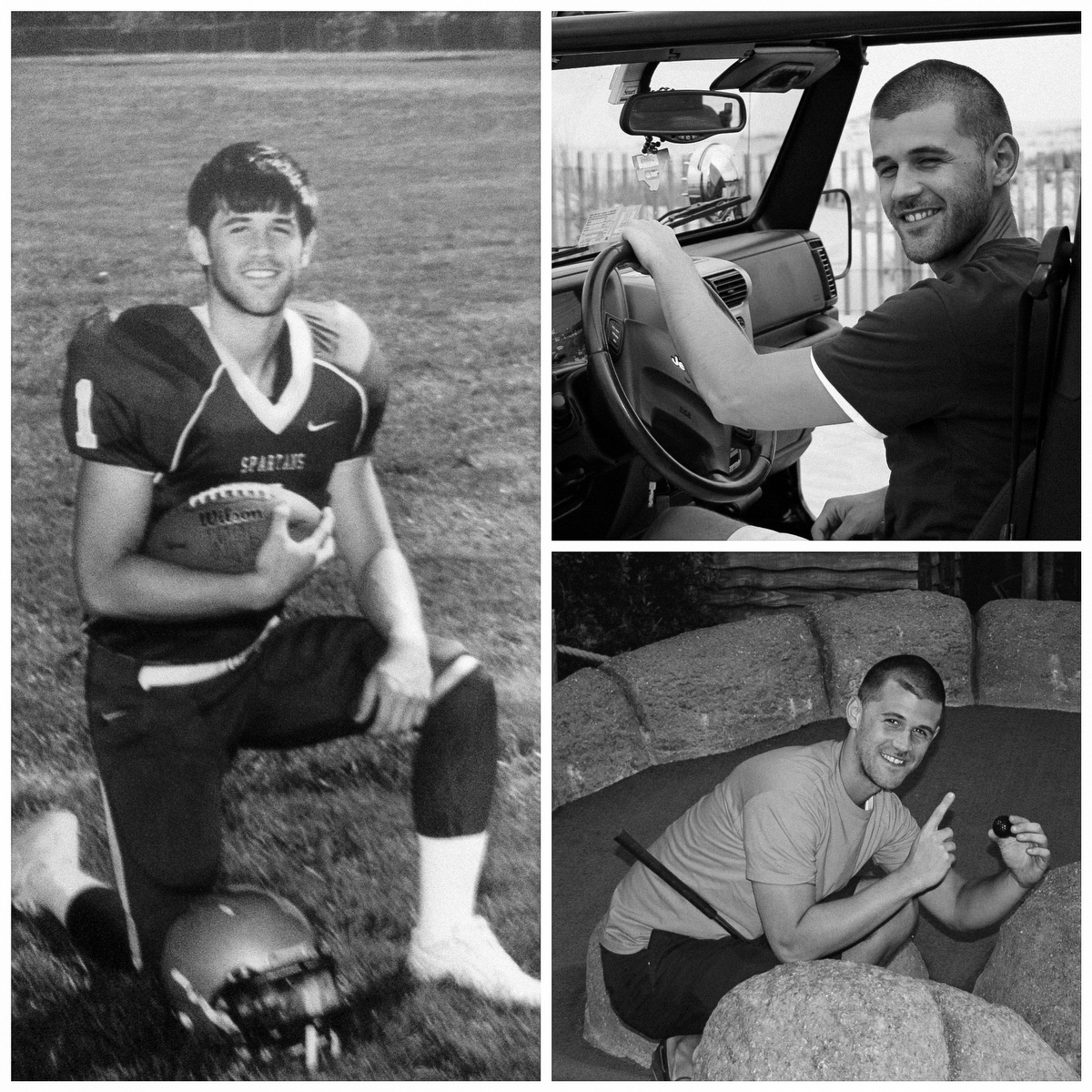 Ryan lives with Traumatic Brain Injury. While many cases of TBI happen because of horrible accidents, Ryan's case was different.
On Nov. 7, 2009, Ryan Diviney, then 20, was walking to a convenience store near the WVU campus with two friends just after 3 a.m. They encountered a larger group and an argument quickly erupted about the Philadelphia Phillies. Diviney was attempting to back away when WVU student Jonathon May punched Diviney in the face, knocking him unconscious. Diviney hit his head on a raised grate when he fell, inflicting damage to his brain stem and frontal lobes. Then Austin Vantrease, 19, who was visiting from Newark, Del., approached Diviney and kicked him in the head similar to the motion of punting a football. The scene was captured on video from the store's surveillance cameras. Diviney began seizing and was bleeding from the ears when paramedics arrived.
Diviney suffered a fractured skull, broken jaw and bleeding of the brain. To allow for brain swelling, one-third of Diviney's skull had to be removed. Despite the 50 percent survival rate, Diviney lived.
"Longest five damn years I've ever been through," Ken says. "It's like you're watching yourself do this. It's not easier, and there's no hope it'll get easier."
In July 2010, May was convicted of misdemeanor battery and sentenced to a year in jail, of which he served seven months. Vantrease was convicted of felony malicious assault and sentenced to two to 10 years, with a chance for parole after two years. He was denied parole in 2012 and 2013, but was released this past July. While many legal proceedings have taken place, for the Diviney family, the real work is at home.
***
The Divineys' home has now been condensed into a basement apartment that houses everything the family needs to attend to Ryan's medical issues. Physical therapy, vibration therapy, tactile and sensation therapy, electrical stimulation therapy and hyperbaric oxygen treatment are just a few parts of Ryan's daily routine. Ryan's care, comfort, and medical treatments cost an estimated $2 million annually. The Divineys have private health insurance that covers some of the cost, but much of what is done in Ryan's case is considered experimental.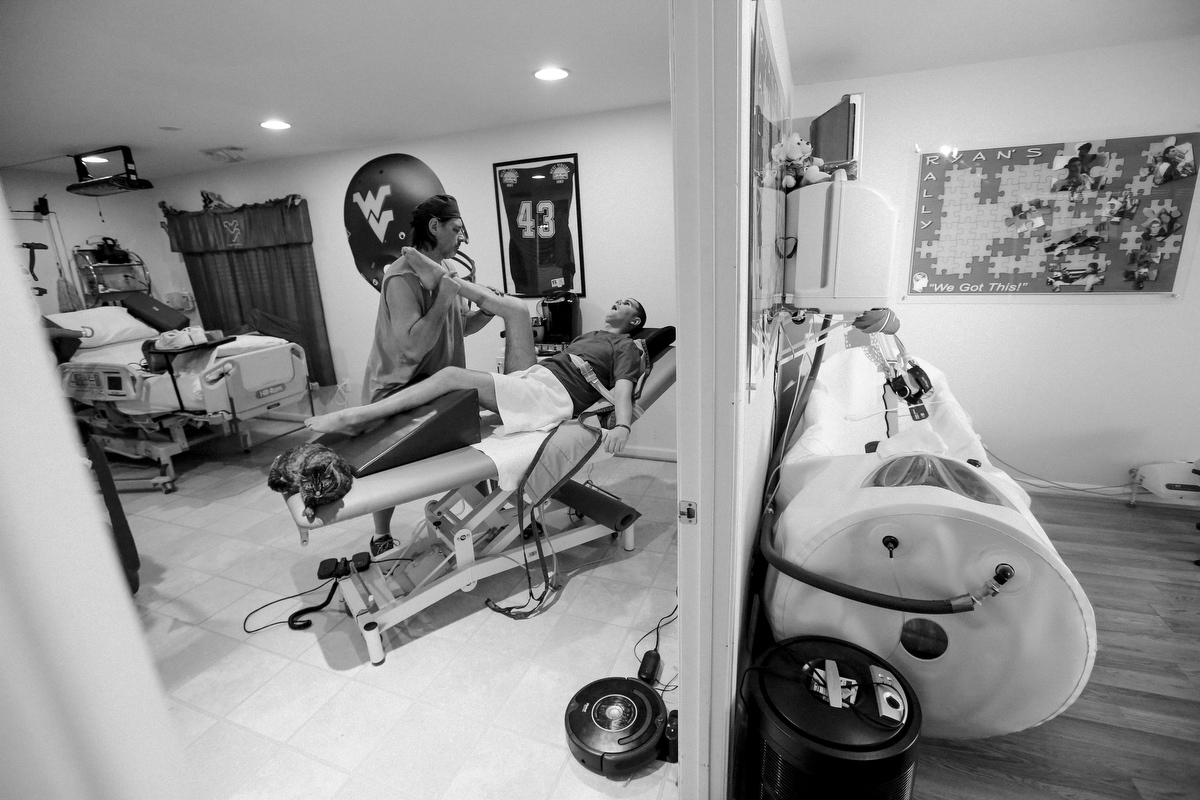 "The human body exists on such small tolerances. It gives you a new appreciation. It just feels like you're always chasing something," Ken says of the constant monitoring and adjustments that go into Ryan's daily care.
Ken has learned an extensive amount of medical knowledge over the past five years.
His intuition paired with his knowledge of Ryan's condition has caused his senses to mesh with Ryan's vitals, like an internal alarm clock that he can't turn off.
"I sleep between 2 and 4 in the morning, but even then it's never a deep sleep. Anything I hear I wake up," Ken says. "I'm always watching."
In addition to taking care of Ryan 24/7, Ken blogs on his website, RyansRally.org. The website has become hugely popular, garnering thousands of comments and much-needed donations from people around the world expressing their love and support. Ken blogs several times a week and posts daily updates on Ryan's health, gives an inside look into the daily life of his family, and uses it as an outlet to expel his grief, anger and frustration at the hand his boy was dealt. The blog has amassed thousands of followers over the past five years, exceeding Ken's wildest expectations. The Divineys have been able to purchase state-of-the-art-technology for Ryan thanks to the generous donations of friends and strangers who have been touched by their story.
The Divineys have remained strong, but Ryan's injury has come with the loss of normalcy for the family. Ryan's mother, Sue Diviney, 49, works in New York City during the week and comes home on the weekends. While Ken handles the physical therapy, the medications and the schedule, Sue handles the insurance companies, the appointments and the finances.
"When you have a loved one with an injury like this, there is a certain loss of family intimacy that comes with it," Ken says. "There's always a stranger around. It's hard to just be ourselves and relaxed, we always have to watch what we say and do. From the night nurse, to the neighbors, to family or friends, there's always someone here. It's never just family anymore."
***
Ryan's room, where all of his medical care is done, is a shrine of memories of his former self. An award recognizing outstanding accomplishments in school with Ryan's name on it hangs near the cabinet that houses all of Ryan's daily medications and vitamins. Nostalgia blankets itself around Ryan's bed, the memories of the past protecting him from being just another statistic. Photos decorate all four walls of the room.
Ryan and Sue, looking very much alike, smile at the camera.
Ryan and Kari at a football game, Kari's smile reflecting how happy she was to be with her big brother.
Ryan with shaggy hair, his squinty-eyed smile peeking out from under a baseball helmet.
It's been a long five years.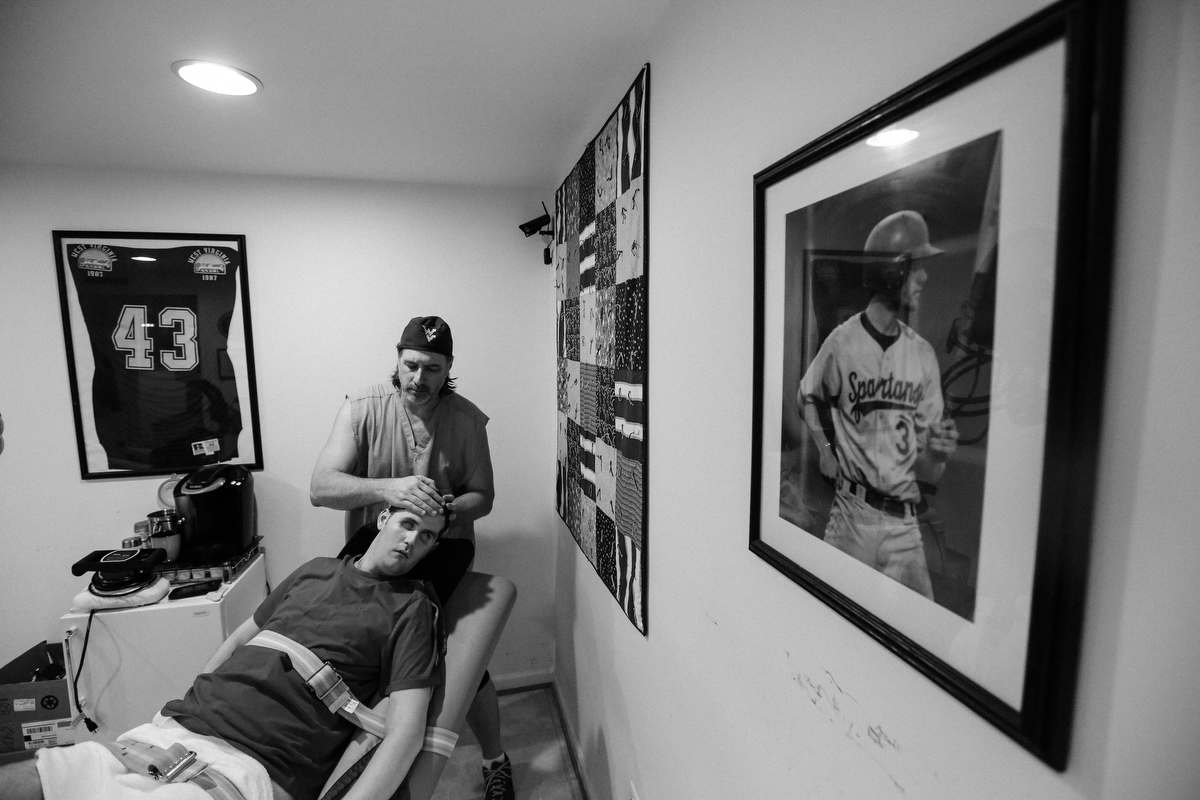 The Divineys lost their son that day in November. Ryan Diviney will remain frozen in time, a 20-year-old WVU student with a 3.8 GPA who had the world in front of him. Sue Diviney reflects back on what has changed, not only the big things but the little things, too.
"You don't think of every little thing like you do when it's something Ryan's lost. Now you just drive past the place you'd go as a family," she says. "Like at the grocery store, I see his favorite food…"
"… Lunchables," Ken says.
"I see his favorite food and I just keep going," Sue says.
***
Recently, Ryan underwent another skull surgery. The original titanium mesh plate that was inserted in the summer of 2010 was removed last June since it was causing his scalp to break down. For three and a half months, a third of Ryan's brain was only protected by his scalp and brain membrane. This last surgery fitted him with a prosthetic skull piece, allowing the Divineys to breathe a sigh of relief.
"We are with him constantly. Every day for the past five years, one of us has been with him at all times. Surgery is the only time one of us is not with him," Sue says.
"If you're with us while Ryan's in surgery, it's kind of like you're on a date with us!" says Ken, holding onto a shred of humor.
Over the past five years, Ryan has shown no signs of clear consciousness. However, Ryan does respond to noises, touch and has the occasional reflex — a development that has only happened over the past three years. Every little thing Ryan does means the world to his family, even if it's something as simple as turning his head. The Divineys talk to Ryan in positive tones, always encouraging his former self to wake up.
***
Sue touches Ryan's left leg.
"I'm touching your LEFT leg, Ryan. Can you lift your left leg?"
Ken watches from a chair next to Ryan's bed, his shoulders hunched with the burden of the past five years.
"Your LEFT leg, Ryan. Can you lift it for me?" Sue asks again.
Ryan's left leg lifts slightly despite his foot being encased inside of a foam boot. Sue brings her hands to her mouth and her smile fills in her laugh lines.
"There you go, Ryan! Can you do it again?"
Ryan lifts again. And again.
"One more time for me? Can you lift one more time?"
Ryan is unresponsive.
He is sleeping now.
"I just want to be one of those stories," Sue says, her eyes locked on Ryan.
"You're the one buddy. That's right," she says.