A tree-lined median bisects most of 33rd Street, stretching from the eastern edge of Johns Hopkins University's Homewood campus all the way to the southwestern edge of Lake Montebello. To the north of 33rd from Old York Road to Ellerslie is Waverly; to the south is Better Waverly. They are two distinct neighborhoods, separated by that median, but connected by signs announcing entry to Waverly Village.
Waverly, Better Waverly

» Border streets: Waverly – Ellerslie Ave., Greenmount Ave., 33rd. Better Waverly – 33rd, Loch Raven, Greenmount Ave.
» Neighboring areas: Ednor Gardens-Lakeside, Pen Lucy, Guilford, Oakenshawe, Abell, Harwood, E. Baltimore Midway, Coldstream Homestead Montebello
» More neighborhoods

"I think this is a great image of our area," said Joe Stewart, a longtime Better Waverly resident. "We kind of decided when these Waverly Village signs went up it was a nice compromise. Having Better Waverly and Waverly, it kind of incorporates the north and south."
It took centuries for this separation to occur. Originally called Huntingdon after Lord Baltimore granted estates to several settlers in 1688, Waverly grew into a leafy suburb where well-to-do city-dwellers spent summers in airy vacation homes. The area was annexed into Baltimore City in 1888 and, over the next several decades, experienced significant growth thanks to public transportation and widespread development.
Segregation had already begun when Waverly became part of the city, and the effects of that reverberated through the years. A Federal Home Loan Bank Board study in 1940 termed the area south of 33rd "a slum district."
Stewart, a recently retired attorney with the State Department of Assessments and Taxation, bought his house in Better Waverly in the early 1980s. By then, the Better Waverly Community Organization and the Waverly Improvement Association had been formed. The former, which Stewart eventually joined, had a "new left, rabble-rouser revolutionary ring to it."
For both organizations, there's been plenty to improve upon over the years, particularly after Memorial Stadium – where the Colts and Orioles played – closed in 1997 and was demolished in 2001. The lot at 900 East 33rd Street is now home to a YMCA and a senior living facility.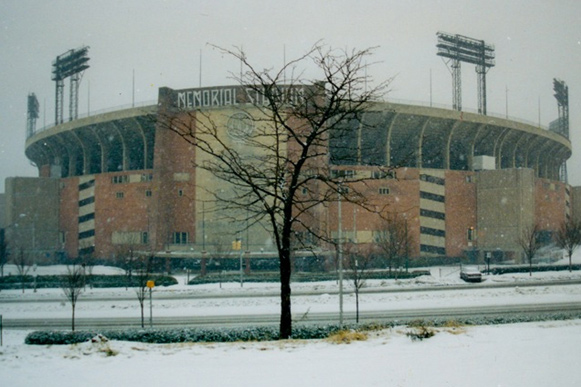 Memorial Stadium. (Courtesy of Joe Stewart)
"In a way, we still haven't recovered from the loss of Memorial Stadium because of the economic impact," Stewart said. "The retail stores did huge business, and a lot of that has gone downhill, [and we're] having a hard time getting back up again. It was like a shockwave."
A stroll down Greenmount Avenue shows what Stewart is talking about. There's still commerce – a couple restaurants (Pete's Grille, Thai Restaurant), a laundromat (Sudsville), a Goodwill store and several other clothing shops – but it's a far cry from what it once was.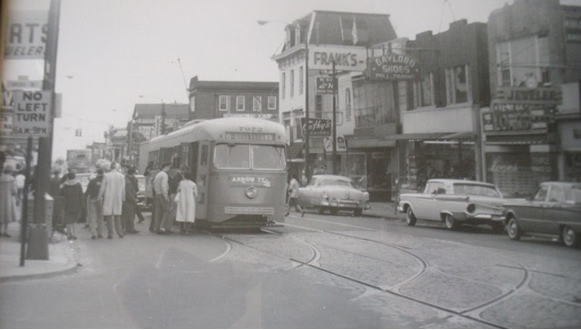 Streetcars at Gorsuch and Greenmount. (Courtesy of Joe Stewart)
Off the main street, though, are a number of well-kept homes – both north and south of 33rd. Stewart lives on a quiet block of brick row houses. On Gorsuch Avenue, a few streets away, unattached cottages sit on spacious backyards. And on nearly every Waverly block, a tree canopy shades walkers from the elements. The side streets feel worlds away from the flurry of activity on Greenmount.
The progressive ideals of Better Waverly that Stewart speaks of are still evident. The old St. Bernard's church on Gorsuch is now called Serenity House, which is affordable housing for women who graduated from Marian House – a building across the street for homeless and/or drug-addicted women. 901 Arts on Montpelier Street, meanwhile, seeks to reach neighborhood youths through art in a program co-founded by MICA and the Better Waverly Community Organization.
At the nearby Montpelier and 30th Street Park – an open space where a stream once ran through the neighborhood – Stewart and others in the neighborhood have organized an annual summer event called WAVEscape, which brings together the artists of both neighborhoods. The Waverly Public Library, Waverly Farmer's Market on 32nd, and Waverly Elementary/Middle School also play prominent roles in the community.
There have been "ups and downs in terms of the economy that have also reflected social dislocation and problems with crime and drugs," Stewart said. But there's also been some stabilization in recent years, including the semi-recent additions of a Giant on 33rd and an Ace Hardware on Homestead. Relations between all residents above and below 33rd seem to be significantly less strained than they were decades ago. Signs of improvement throughout Waverly Village are all around.
"We're part of the urban fabric," Stewart said. "Fortunately, we've kept some green space and kept lots of trees. And we still have our hills. … We're kind of quirky in terms of being a neighborhood."
This is part of an ongoing series from The Baltimore Sun about the history, culture, and future of Baltimore's neighborhoods. Have a suggestion for what neighborhood to explore next? Let us know.